Bathroom Renovations & Remodeling
JMG Builders specializes in professional, high-quality bathroom renovations in South Jersey. We work together with our clients to create the bathroom of their dreams utilizing modern technology and industry expertise.
"I had a pipe burst which flooded a first floor bathroom. Joe and his team came out, gave me a competitive quote and got to work. They sealed off the area so the rest of my house wasn't affected and got the job done relatively quickly. I can't recommend him enough – he does amazing work and the bathroom looks better than before."
"I used JMG Builders to remodel my master bathroom. They installed a new double vanity with mirrors, tiled a new walk-in shower and installed a new soaker bathtub. I now live in my bathroom! I LOVE it!"
"My realtor recommended JMG Builders to me. He suggested renovating my bathroom before putting my house on the market. Joe's team came in and redid the bathroom on a tight budget. I'm convinced this help sell my home."
Professional Bathroom Remodeling in South Jersey
Hire our team to create the bathroom of your dreams. Remodeling a bathroom requires extensive knowledge and expertise. Our team can help with:
Master baths & suites
Jack & Jill bathrooms
Guest bathrooms
Powder rooms
Tiling & flooring
Backsplashes
Custom Cabinetry installation
In-floor heating
Updated lighting
Shower tiling
Plumbing & fixture installation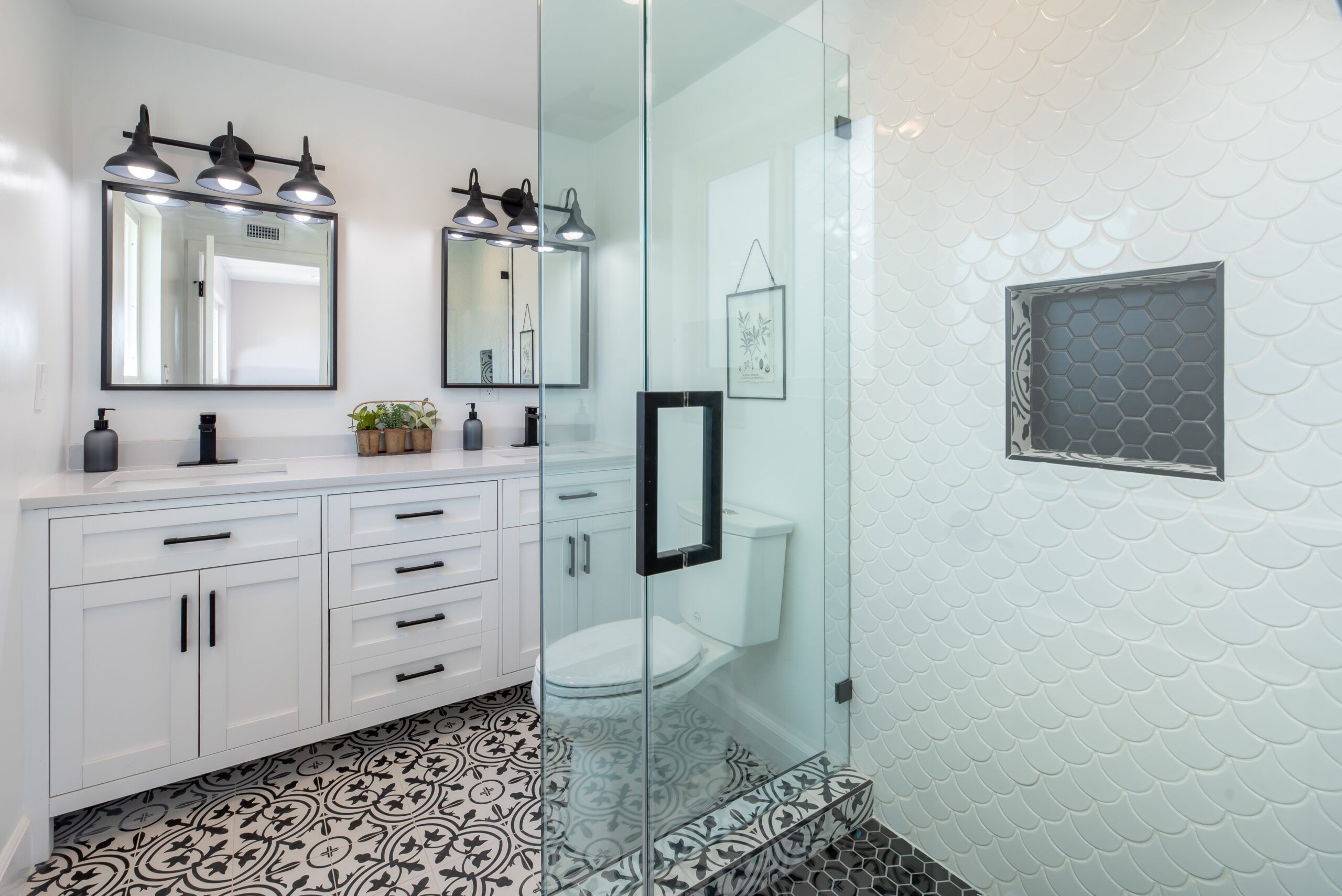 Call For a Quote:
(609) 231-8710
Remodeling a bathroom in South Jersey can be a difficult project to handle on your own. It takes a highly experienced, talented, contractor to do it the right way.
At JMG Builders we specialize in bringing our client's visions to life. Together, we collaborate to create a unique space that accommodates the needs of our clients and fits within their budgets.
Whether it's a powder room or master bath, we have the expertise to create a space you'll love. From initial consultation through completion, we'll be with you to make the process as convenient as possible.
We renovate bathrooms in the following areas in South Jersey:
Cherry Hill NJ
Washington Twp NJ
Moorestown NJ
Delran NJ
Marlton NJ
Medford NJ
Delran NJ
Voorhees NJ
Collingswood NJ
JMG Builders are passionate about what they do. If you have any questions about renovating a bathroom or what we can do to help you, contact us today!
How much does it cost to remodel a bathroom?
The cost to remodel a bathroom depends on a lot of factors. Typically a bathroom remodel can cost anywhere from $2,500 to $23,000. We'll work within your budget to help create a bathroom that works for you.
How long does it take to remodel a bathroom?
A bathroom remodel can take anywhere from a few weeks to a few months, depending on the size of the remodel. Our team will work with you to make sure the bathroom renovations are completed within a one to five week timeframe.
Does a remodeled bathroom increase my homes value?
Can you move around plumbing when renovating a bathroom?
Yes, most of the time we can move around the fixtures and plumbing when renovating a bathroom. However, it all depends on the budget and the way the house was originally built. We'll consult with you to determine what is possible.
Can I add in a bathroom where there wasn't previously one?
Yes, we can most likely add a bathroom where there wasn't previously plumbing. This depends on your budget and the way your house was built. Our team can consult with you to determine the best options.